Furnished Serviced Offices in Winchester
– with minimal commitment
Inflation proof! Prices fixed until June 2024. No nasty shocks.
Short terms of 1 or 2 months also available
Do you need a serviced office in Winchester Hampshire? Whether you need a room for six people or it's simply yourself looking for a low-cost single room right in the centre of Winchester. Whatever your requirement, we could have just the space for you, ready made, and with a prestigious address to match.
Minimum outlay. No long term commitment
Worried about inflation? Electricity and heating are just two of the things included in the price of our offices- and our prices are fixed until June 2024. To add your feeling of security in these uncertain times, we only ask you to give us two months' notice of leaving.
You also get a staffed reception (9am-5pm Mon-Fri) and we process your mail. All our rooms are furnished with free workstations so you don't have to worry about buying desks and chairs (or you can bring your own if you wish) and they're kept clean for you. They have superfast broadband (approx 200 Mbs) and phone lines with a Winchester code available.
We can't eliminate the risk of being in business but we can help reduce it with our flexible contracts. If you want to leave, you only need to give us two months' notice. And there are no legal or surveyor fees. Even business rates aren't a problem because, unless you have more than one office space, your room will probably qualify for Small Business Rates Relief, meaning you won't pay rates . Read more here.
We're serious about your business. We can't promise to make your enterprise a success but we can make sure you're able to give it your best shot by taking care of many of the time-consuming matters that distract you from building your business. The quarterly fee includes rent, water rates, heating, lighting, premises insurance, cleaning, appropriate furniture, a staffed reception, cleaning, maintenance, and mail processing. We offer monthly contracts for superfast broadband and your phone. So there are no nasty surprises in your overheads.
First 2 weeks Free
Take a serviced office at Hampshire Workspace and we'll give you a flying start with no charge for your first two weeks (subject to signing a six month contract).
Looking for even less commitment?
You can hire an office for a single day or four times a month. Or why not try one of our serviced offices for one or two months and see if it suits you? Call 01962 864321.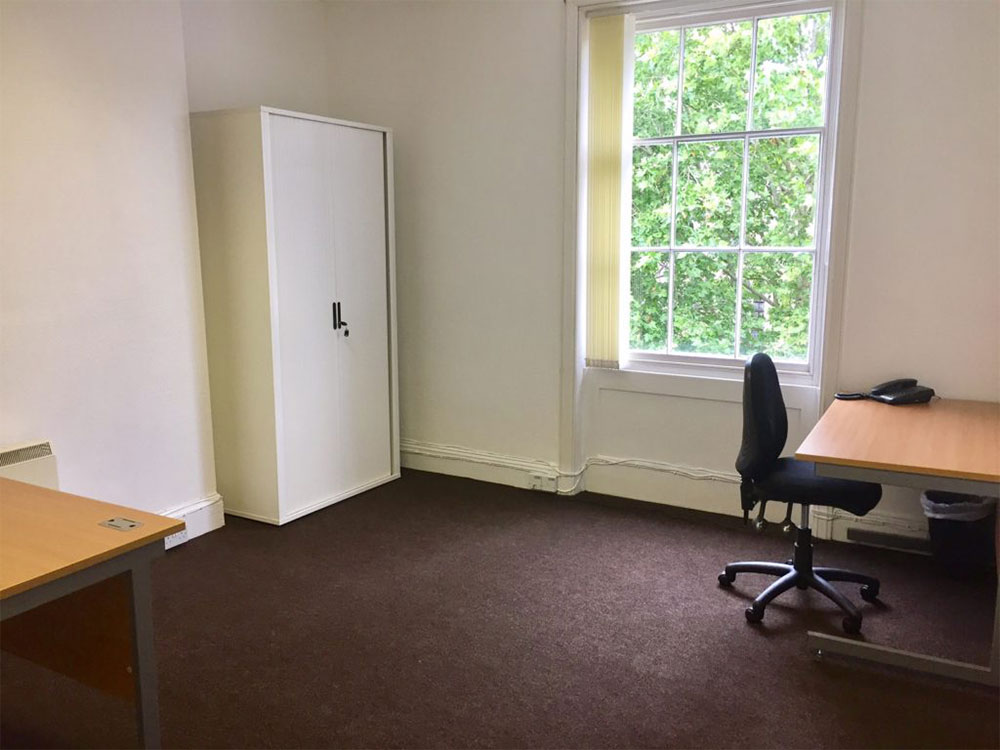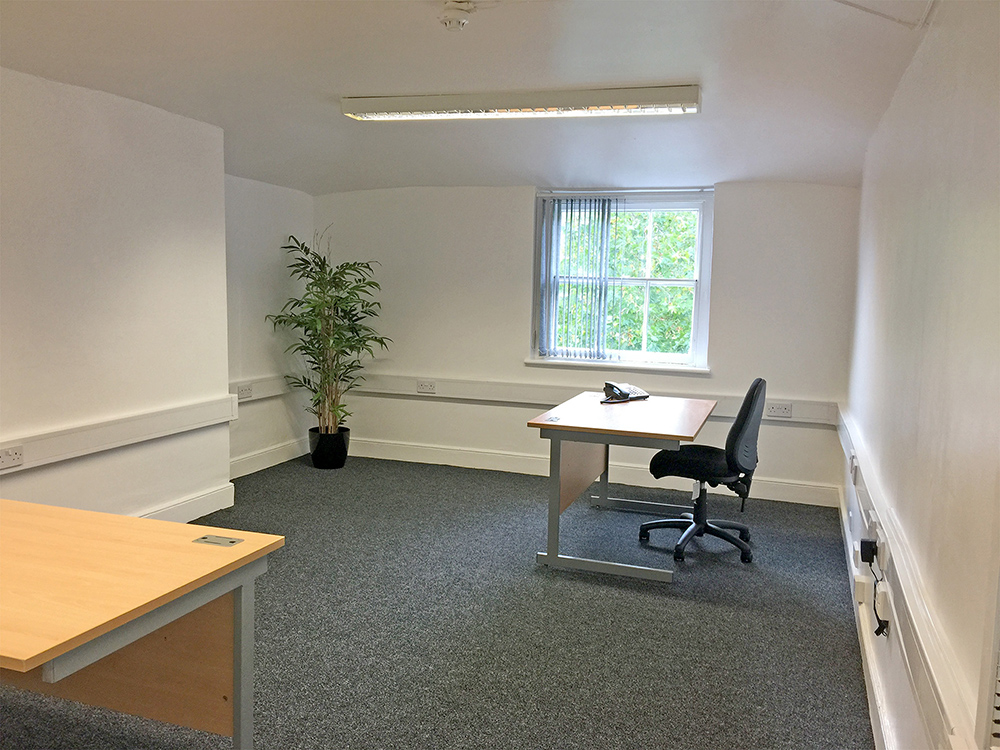 We've been supporting new and growing businesses for 40 years
Whatever you do, we're here to support you. Our current occupants include doctors, therapists, solicitors, recruitment agencies, media companies and IT specialists. Whether you're a one person business or need space for a team of six, you'll discover that your furnished serviced office at Hampshire Workspace in Winchester is more than a room and a desk.
All you have to do is choose the office space to suit you from the available offices at Hampshire Workspace in Winchester city centre. Right away we arrange your phone and your furniture. Plug into the superfast broadband (or connect to the Wi-Fi) and you're free to work on your business, while we greet your visitors and sort your mail.
Read the story of Hampshire Workspace and our mission to make it easier for you to start and grow your enterprise.
You get Superfast Broadband Uploads as well as Downloads
Our leased line offers you a reliable, exclusive broadband supply with upload as well as download speeds of up to 200 Mbs. That's good news for anybody conducting business online but ideal for designers and others who need to send out complex files. Ping tests typically show a latency of less than 10 milliseconds. The Ubiquiti AC Wireless Access Points provide you with fast consistent Wi-Fi.
One of the most Prestigious Business Addresses in Winchester
We occupy a beautiful 180 year old Grade II listed Georgian building that has been carefully converted into offices with modern facilities.
It is located in the centre of Winchester with wonderful views of the Cathedral and historic city. It may be a Georgian building but it has modern facilities. Find out more about its history here.
We have endeavoured to make our building Covid- 19 safe. Click here to read more.
Use our Winchester address for your Virtual or Registered Office
We're not just about serviced office space. You can use our prestigious Winchester building as your Virtual Office or your Registered Business Address.
If you're looking for a Winchester address for your registered office and mail, they don't come any more impressive than a Georgian building in Southgate Street.
We can forward your mail or hold it for collection. Added services include franking and despatching your post, photocopying, diary administration and phone answering. Find out more about all our Virtual Office services.