40 Years of Hampshire Workspace
Hampshire Workspace was a revolutionary concept when it was launched in Southgate Chambers in 1982 by Sylvia and George Dibben. It was the first serviced office business in Winchester. Since that time some 200 businesses have been launched from there.
George and Sylvia say, 'The concept of our Clients using services we provide as if they were part of their business remains as valid in today's world of social media and mobile communications as it was in 1982 when Telephone Switch Boards were routine and the Telex was the latest thing.'
The company has also managed serviced offices in Bond Street and Greenford, London, as well as Industrial Units at Gateshead and Tunstall in Stoke and continues its involvement with the Sanderson Centre, Gosport, which was acquired in 1985.
A History of Southgate Chambers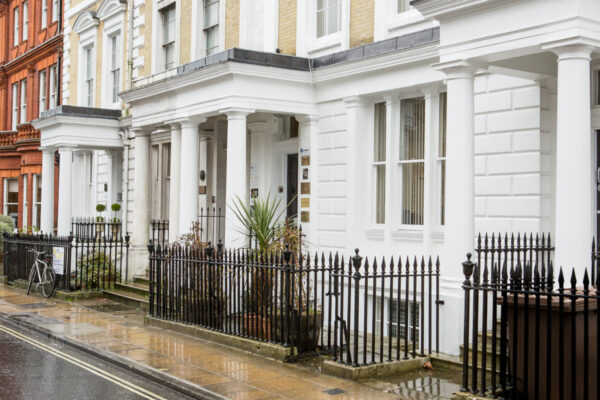 Hampshire Workspace and our 26 serviced offices occupy 37 and 39 Southgate Street Winchester. The buildings form part of a Grade II listed terrace.
The terrace of four houses is Georgian in style although, as it was built between 1836 to 1845, it is technically Victorian. It was designed by Owen Browne Carter (1806-1859) who also designed the library building (formerly the Corn Exchange) in Jewry Street Winchester.
The terrace was named Chernocke Place after Sir Villiers Chernocke who owned the land on which it was built. The builder was William White.
At the time, Winchester was beginning to expand rapidly thanks to the arrival of the railway in 1840. The houses were initially occupied by well-off families. There would have been no running water, drains or street lights when the houses were built but it wasn't long before gas street lighting was installed in 1847 followed by piped water in 1856 and drains and sewers in the 1870s.
Southgate Street was and is the main road into Winchester from Southampton. It becomes St Cross Road at the old boundary of the city where the long gone South Gate was situated.
In May 1897, 39 Southgate Street provided the first home for Peter Symonds College, at that time a secondary school for boys. The school moved to its present site in December 1899.
By the 1920s commercial owners were beginning to move in. Sadly they seem to have taken less pride in the buildings which began to deteriorate through lack of maintenance. After the war, it became necessary to remove the porches. Fortunately, thanks to a City Of Winchester Trust campaign, the porches were restored in 1979.
Post War Revival
Warren's Street Directory of 1953 shows 37 as being occupied by the Hampshire National Health Service Executive Council and 39 by Bowker & Richards Solicitors and W Moss, Clerk to the City Magistrates.
By 1967, the NHS had taken over both buildings and knocked through a connection at second floor level. That year, they were put up for sale by auction through George Smith & Son. By 1971, both properties were occupied by The Condor Group of Companies, who supplied iron frameworks to new properties.
Hampshire Workspace acquired the buildings in 1982, seeing a great opportunity to provide Winchester with its first serviced offices. There are now connecting corridors at every level, not to mention superfast broadband and other modern facilities. Nevertheless many original Georgian features have been preserved including the pillared curved arch that once led to the main east-facing ground floor room and the decorative ceiling mouldings, making Southgate Chambers a pleasure to be in and far more than a just a place of work.