Making Our Building Covid- 19 Safe
In accordance with Government advice, our number one priority is to ensure people can social distance in all common areas and to make hand washing and hand sanitising readily available. We are also regularly disinfecting common areas.
Social Distance
The front door is now permanently locked. Clients and their employees can enter using a contactless key fob. Other visitors gain access by using the intercom to contact reception. In this way, we can control the number of people in the lobby and reception.
There are signs in the lobby reminding people of the importance of social distancing.
To avoid people waiting in the lobby and reception, we are asking our clients to collect visitors at the front door and take them directly to the office whenever possible.
We are still receiving visitors on behalf of clients and allowing them to wait in reception but only under exceptional circumstances and by prior arrangement. Where possible, we are scheduling visits from suppliers and contractors to reduce interaction and overlap.
In reception, the number of chairs has been reduced and screens have been erected in front of the reception desks.
People within the building are asked not to pass on stairs and in corridors. There are signs throughout the building to this effect. (We have looked at the possibility of a one-way system but unfortunately this would be impractical.)
The two kitchen areas are restricted to one person at a time. The two toilet areas are restricted to two people at a time, again with signs reminding people to practise social distancing.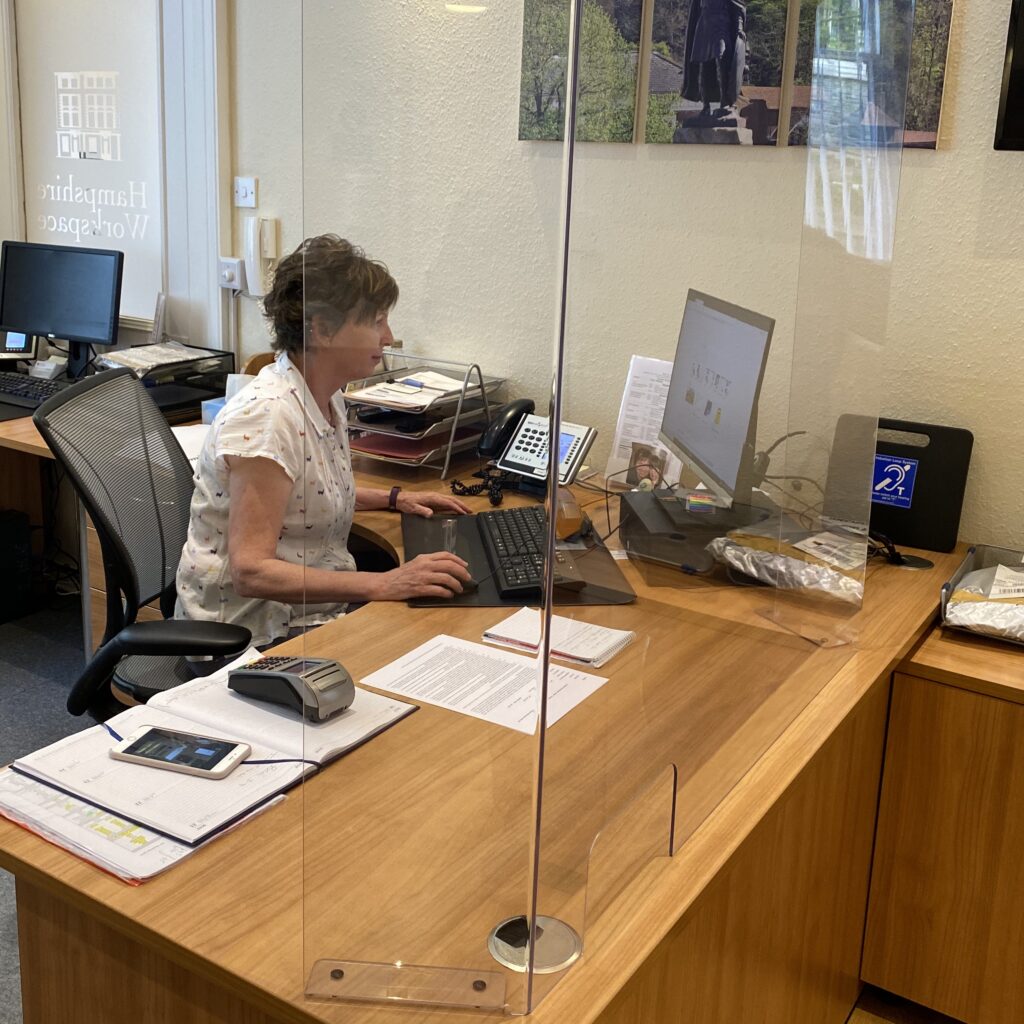 Where a client hires an empty room for a meeting, we insist that attendance is restricted to the number that can practise safe social distance.
Hand washing and sanitising
There are hand washing facilities in all the toilets and kitchens. We have placed hand sanitisers at strategic points throughout the building. These include a wall-mounted hand sanitiser which people must use when they enter the building. There are signs throughout the building emphasising the importance of hand washing and sanitising.
Disinfecting the building
Our cleaners disinfect all common areas each evening as part of their cleaning routine. Hampshire Workspace staff are disinfecting all hand rails, door furniture and shared equipment such as printers regularly (our aim is to do this once an hour).
We are asking people to wipe down with disinfectant or gel any shared equipment or surfaces that they touch. Signs reinforce this message.
Other measures
Everyone must wear a face covering in public areas from the moment they enter the building to help reduce transmission of the virus from an infected person and to act as a reminder not to touch one's face, and to practise other preventative measures.
To minimise the use of the kitchen areas, we are asking that people using the building do not leave crockery and food in the kitchen with the exception of items that need to be refrigerated.
Viruses thrive in enclosed areas so we will open windows wherever possible.
The Government is encouraging people to cycle to work. We already provide a cycle rack at the back of the building. If there is an increased demand for spaces, we will endeavour to provide a further rack.
In the event of a case of coronavirus infection of anyone who has been in the building, the building will be deep cleaned and all clients informed. All staff known to have had contact with the infected person will be expected self isolate until tests have been carried out.
For further information on making your office and working practices as safe as possible, please read the Government guidance at https://www.gov.uk/guidance/working-safely-during-coronavirus-covid-19