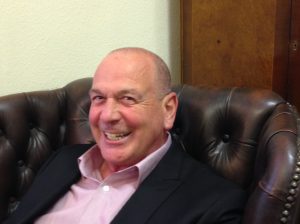 We are sad to report the death of our good friend and colleague Steve Wichett.
Steve had occupied an office here at Hampshire Workspace for thirteen years and was one of our longest-serving clients. As a therapist and counsellor, he helped countless people to heal their trauma and overcome phobias with his unique combination of NLP (Neuro-Linguistic Programming), psychotherapy and hypnotherapy.
Although Steve only trained as a therapist represented in his forties, he threw himself into his new career with typical hard work and enthusiasm, and became one of the most respected in his field, with a consulting room in Harley Street as well as at Hampshire Workspace.
As a member of our community, he brightened the day with his good humour, calmness and positive approach to life.
Steve also offered a fine example of someone who balanced work with enjoying life. He loved spending time with his partner Lydia and his family. His leisure time was active and full of fun.
He will be greatly missed by all who knew him. Our thoughts are with Lydia and family.
Steve's funeral took place on 28th October 2021 at 1:00 pm at Southampton Crematorium. His family have asked that donations in his memory be made to Winchester Hospice https://steve-wichett.muchloved.com